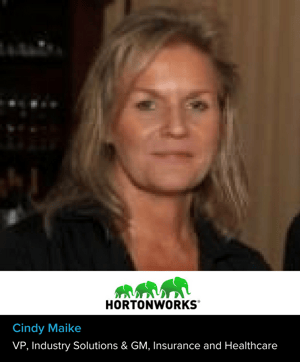 What would you say most motivates you to do what you do?

I have always been passionate about driving innovation, change and helping the insurance industry remain profitable and relevant. Data and analytics is at the heart of this. Additionally, I firmly believe as individuals we need to continuously learn and keep ourselves relevant.

What led you to your current role?

The opportunity to continue to drive and share the business use cases around the world using Big Data techniques. Open source is a truly helping this innovation through a community and open model which I have found to be instrumental to driving change.

Did you have any key mentors or people who deeply influenced you, can you tell us about them?

Manoj Saxena and Faye Mandel have been key mentors. Manoj in his vision of a serial entrepreneur and believer in change and innovation. Faye as a personal and executive coach....helping me live in the 'now' and focus on what I personally can change. Both of these individuals have also become life long friends.

Can you describe to us a current project/transformation you are working on?

There are several that are top of mind, the most current is driving thought leadership around the opportunity of risk listening and risk monitoring for the insurance industry. The key element being how the insurance industry can discover new real-time data sources to help their customers reduce their propensity for losses.

What has this project taught you?

The insurance industry has so much to gain from risk listening and monitoring. It has the opportunity to change the perception of the industry in the marketplace. Rather than just collecting an insurance premium, how can the industry actually help their customers be 'safer' and reduce losses.

What excites you most about the future?

Data & analytics are key to the future of the Connected World and Connected Communities. Our world is changing because of data and those that embrace it will continue to be relevant, drive change and impact businesses as well as individual lives. Those that focus on the business outcomes will be the most successful.

If you could give 1 piece of advice to someone looking to start a career in data & analytics, what would it be?

You really need to develop a passion and purpose. Choose projects and initiatives where you have 'unanswered business questions' so you have something to solve for.