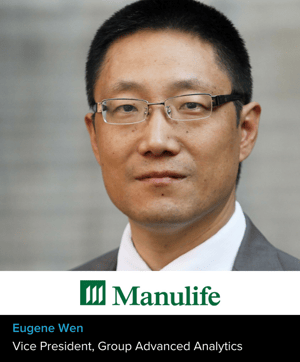 What would you say most motivates you to do what you do?

Seeing data and analytics making difference in business

What led you to your current role?

My passion in data and my belief in the power of analytics

Did you have any key mentors or people who deeply influenced you, can you tell us about them?

Yes, I am fortunate and grateful to many people who mentored me at different stages of my career since early days in school until today at my current job. In terms of using data to support business transformation, Mr. David Marshall and Ms. Susanna Zagar at my previous job had a substantial influence. David, as the CEO of the $4 billion annual revenue company, turned around the business from a multi-year financial deficit. His demand for data and in-depth analysis set a very high bar for analytical teams. Susanna, as the Chief Strategy Officer, provided excellent guidance. Her understanding and support ensured the success of analytical teams. Serving under them as the Vice President and Chief Statistician, I built a team and supported the senior executives and business operations jointly with many other analytical professionals in the company. I learned a lot from the heated debates in executive meetings, developing models with my team and the long conversations with David and Susanna. I witnessed the daily ups and downs that led to the business turnaround during my five and half year service there. This provided me with first-hand experience on how analytics can support business transformations.

In terms of building advanced analytics capacity in a multinational financial enterprise, Ms. Cindy Forbes has influenced many analytics executives within the company and across the industry. Cindy, as the inaugural Chief Analytics Officer of Manulife/John Hancock, built an advanced analytics function across the globe and is transforming this over 100-year old financial service institution into an analytics-driven organization.

Can you describe to us a current project/transformation you are working on?

As part of my responsibility, I am building Centers of Expertise (COEs) in advanced analytics with different business focuses. One of them is the global Fraud Analytics COE. It provides technical expertise and support to businesses in detecting and preventing fraud.

What has this project taught you?

If we want an analytics/AI project making a difference to the frontline business, the close collaboration among business, analytics, IT and senior executives is key. One of the joint project teams won the global Stars of Excellence Award last year largely due to their multidisciplinary effort. A good analytical environment consisting of tools, data accesses, enterprise data lakes, security controls and governing protocols, is a worthy investment for any company that looks for timely and actionable analytical insights.

What excites you most about the future?

The fast development of machine learning/AI technologies, new open source tools and a growing talent pool of data scientists and data engineers.

If you could give 1 piece of advice to someone looking to start a career in data & analytics, what would it be?

If you've confirmed your passion about data, get your hands dirty on data. Learning from actual experiences and mistakes is an effective way to lead to a successful analytics career.