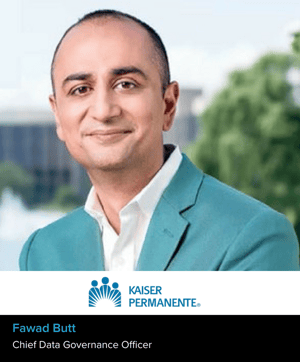 What would you say most motivates you to do what you do?
I love data and information. I am motivated by the impact of information on decision making, especially as it relates to automated decision making.

What led you to your current role?

I came to Kaiser Permanente to help develop and implement a robust data management strategy and program. Prior to joining KP, I was the Head of Global Data Strategy at a financial services institution.

Did you have any key mentors or people who deeply influenced you, can you tell us about them?

I have a number of mentors and friends who I use to solicit input and guidance. These folks tend to come from diverse backgrounds and have global and local experiences.

Can you describe to us a current project/transformation you are working on?

I am currently focused on helping transform the Analytics infrastructure and processes at KP. As a company we are focused on leveraging our data to help deliver the best patient and member outcomes at the most affordable price, and analytics has the potential to help us improve both outcomes and cost structures.

What has this project taught you?

People are more important than technology.

What excites you most about the future?

The amount of research and investment in the data and analytics space is truly transforming our access and understanding to A/I and other automation. I believe that as a result, humanity will benefit in ways we have yet to realize.

If you could give 1 piece of advice to someone looking to start a career in data & analytics, what would it be?

Be multi dimensional i.e don't just learn about the tools and technology, but also learn softer skills such as storytelling, change management etc.