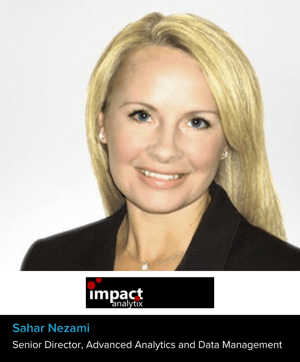 What would you say most motivates you to do what you do?

I love crunching data. It is like an addiction that I simply can't resist. I need to understand the numbers - it is like solving a puzzle. That passion is my secret to success.

What led you to your current role?

My early consulting career experience has been priceless. It helped me see a wide variety of projects big and small, learn how to navigate the business world, present ideas in a compelling manner, explore libraries of interesting work, and fill my brain with free online learning. In the quest to drive my own destiny and not be held back from continually growing, I chose to leave my comfort zone.

Did you have any key mentors or people who deeply influenced you, can you tell us about them?

Dean Abbott, an internationally recognized data mining and predictive analytics expert. I took Dean's data mining class twelve years ago. I still treasure that content today. Dan Fylstra, president and CEO of Frontline Systems. When I was learning prescriptive analytics, I reach out to Dan. He has been a wonderful mentor pointing me to the right books and real-world samples.

Can you describe to us a current project/transformation you are working on?

Designing, testing and educating business analytics professionals on how to use automated machine learning to more efficiently drive value, optimizes outcomes and focus on what matters most.

What has this project taught you?

I am shocked by the massive gap that exists today in explaining machine learning insights to the business. The art of AI storytelling is a skill that will become much more important to master in the future.

What excites you most about the future?

I am excited about doing more mind work and less busy work! Augmented analytics offerings have started to deliver on the promise of democratizing machine learning. Automated machine learning platforms with pre-packaged best-practice algorithm design blueprints and partially automated feature engineering capabilities have rapidly become game-changers in the digital era. Rather than waste so much time scripting, debugging code and manually iterating through algorithms to try and find the best one, I can let the machine do that tedious work allowing me to analyze and implement the findings.

If you could give 1 piece of advice to someone looking to start a career in data & analytics, what would it be?

If you liked statistics and math, you will most likely enjoy analytics.To gain basic analytical skills, I recommend getting a solid foundation in statistical concepts, Python and R programming languages. There are plenty of free resources to do that including but not limited to DataCamp, Coursera, EdX, Big Data University and Udacity. Simply search for free statistics classes on Google and you'll find them.

Knowing how to query data is also an essential skill, thus learn the SQL language and how to design a database. Dimensional modeling also seems to be in high demand. Again, these types of topics are widely available to learn for free.

Lastly, you will want to have skills in showcasing your analysis and telling stories with data. If you are not already an Excel guru, you will want to become a master of Excel. It is the #1 analytics tool in the world! Also learn Tableau, Power BI, Qlik, TIBCO Spotfire, or another data discovery tool. For data storytelling, there are many excellent books and SlideShare presentations on that topic.