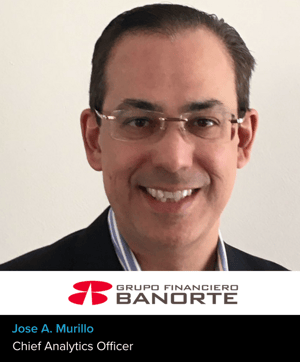 What would you say most motivates you to do what you do?

Create value for our customers and stockholders with the use of data and analytics.
What led you to your current role?

Analytics technical ability coupled with the capacity to communicate new ideas and build consensus around them.
Did you have any key mentors or people who deeply influenced you, can you tell us about them?

There are several people to who have influenced me: As an economist my PhD Advisor Marc Dudey, as central banker Deputy Governor Everardo Elizondo, and as a private banker the COO/CFO Rafael Arana.
Can you describe to us a current project/transformation you are working on?

My most recent analytics projects merge the use of artificial intelligence and behavioral economic tools to accelerate the experimentation learning curve with the effect of delivering a massive ROI.
What has this project taught you?

This project has been successful for at least five reasons:
Value creation with analytics requires vision clarity at the top.
Speed up the discovery process with AI.
Establish the right partnerships.
Loads of tests and execute swiftly.
Grit. Patience and perseverance to learn even more.
What excites you most about the future?

The promise of an exponential growth period which delivers massive benefits to humanity in many industries.

If you could give 1 piece of advice to someone looking to start a career in data & analytics, what would it be?
Always focus on value.