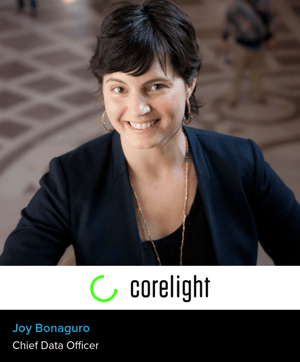 What would you say most motivates you to do what you do?

At my core, I'm a problem solver. Even as a teen, I was perplexed by the question: what do you want to be? I didn't want to be a specific thing - I wanted to solve interesting problems. The public sector is full of interesting (and complex) problems!

What led you to your current role?

Mostly an accident and good timing. A friend of mine worked in the City, knew about the role and thought of me. I applied just before the deadline. That being said, my background prepared me for the role. I worked on data democratization previously at the Data Center in New Orleans. And then at Berkeley Lab, I learned how to work across a complex organization to achieve policy goals.

Did you have any key mentors or people who deeply influenced you, can you tell us about them?

My key mentors have been books. I'm a voracious reader and like to blend theory and practice around design, organizational behavior, and strategy.

Can you describe to us a current project/transformation you are working on?

Our biggest project in the last year was rolling out data science as a service. We've written extensively about this work at datasf.org/blog.

What has this project taught you?

That you can indeed create a dependable pipeline of data science uses cases that actually get deployed by using a blend of design thinking as well as standard data science tools.

What excites you most about the future?

The parts that are unknown :-) I've recently decided to leave the City and am excited to take on a role at a startup, Corelight, that provides cyber security tools to make our networks and institutions safer.

If you could give 1 piece of advice to someone looking to start a career in data & analytics, what would it be?

Build your design and client management skills in tandem with the harder skills.