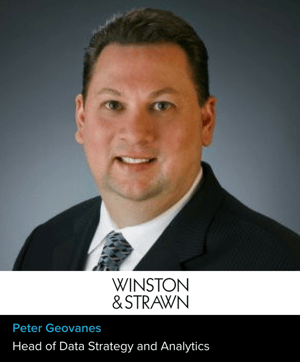 What would you say most motivates you to do what you do?

I love the challenge of solving business problems with innovative applications of analytics and/or AI/ML

What led you to your current role?

I have been working in the Predictive Analytic, BI/DW and Big Data area for over 15 years, I then challenged myself to earn a law degree (J.D.) and when the opportunity to combine my passions presented itself, it became an easy decision.

Did you have any key mentors or people who deeply influenced you, can you tell us about them?

Mr. Krish Krishnan is a friend and former colleague of mine, who is recognized as a thought leader in the DW and Big Data space. He challenged me to use analytics to elevate an organization, through efficiencies, risk reduction and better decision making.

Can you describe to us a current project/transformation you are working on?

On the business side of operating a law firm, we have several initiatives underway to optimize our marketing and business development functions. On the practice of law side of the house, we are implementing analytic & Artificial Intelligence tools to assist with contract analysis, legal research, early case assessment and legal project management.

What has this project taught you?

In addition to creating innovative solutions, it is still imperative to have a change management plan, in order for the solution to be truly adopted.

What excites you most about the future?

We are just scratching the surface... The possibilities in this industry are extraordinary in a field that is far away from mature.

If you could give 1 piece of advice to someone looking to start a career in data & analytics, what would it be?

Don't discount the importance of building business acumen to compliment your analytic skills.