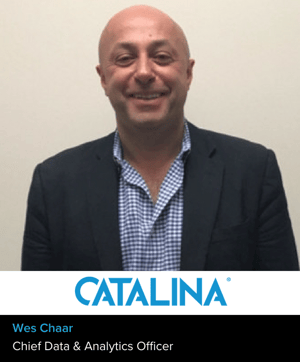 What would you say most motivates you to do what you do?

I am passionate about making analytics advancements, implementing analytics solutions at scale, and helping companies win in the marketplace.

What led you to your current role?

I was drawn to Catalina because it is a big data company sitting at the intersection of marketing and technology. Catalina invented one-to-one marketing in 1983 – well before digital, mobile or social marketing existed. Since no other company has amassed as much consumer data, this gives us a uniquely rich and expansive view of one-to-one consumer purchasing behavior. Our goal is to continually enrich that data to gain a true 360-degree understanding of shopper needs and preferences, enabling us to reach the right households with highly relevant content in real-time, both offline and on. I am excited to be part of a company with so much experience and potential in forging the future of personalization.

Did you have any key mentors or people who deeply influenced you, can you tell us about them?

Watching my father, I learned how to influence and bring people together to pursue a common goal and forge a path for success.

Can you describe to us a current project/transformation you are working on?

We are developing an even more intimate personalization framework as a foundation for a best–in-class solution focused on better understanding and connecting with consumers at the right place and the right time, changing shoppers into buyers. In the process, we're delivering a guaranteed and measurable return on our own customers' marketing investments.

What has this project taught you?

Each shopper has his or her unique DNA. For example, no two shopping baskets are the same. Each consumer has an individualized story and a unique set of preferences.

What excites you most about the future?

We are positioned to develop even more personalized solutions that are tailored to the uniqueness of every consumer. In today's omni-channel world, it's our job to connect with them in a meaningful and persuasive way when and where they choose.

If you could give 1 piece of advice to someone looking to start a career in data & analytics, what would it be?

Focus on the big picture. The volume of available data is increasing exponentially, and how you interpret that data is what will set you apart. Always keep the value proposition for a business at the forefront of your thinking.