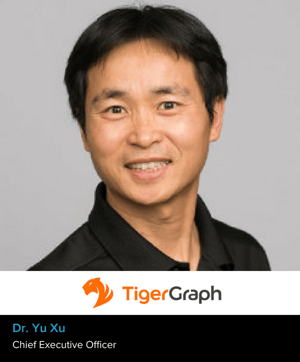 What would you say most motivates you to do what you do?

My biggest motivation is to enable businesses of all sizes to gain deeper insights, as well as achieve better business outcomes from their data. It's all about enabling them to achieve what was previously impossible with modern technical solutions designed for today's needs.

What led you to your current role?

As a PhD student, I focused primarily on massively parallel processing. I became aware of huge inefficiencies in current database and analytics technology used by enterprises and governments. During my work experiences at Teradata and Twitter, I saw the pressing need for a solution capable of storing and analyzing interconnected data among people, products, services and organizations in real time. I founded TigerGraph in 2012 to address this unmet business need.

Did you have any key mentors or people who deeply influenced you, can you tell us about them?

My professor, Dr Alin Deutsch at University of California at San Diego has been my mentor during my journey to build out world's fastest graph database. TigerGraph is capable of handling over two billion complex transactions per day. Dr. Deutsch has been instrumental in shaping TigerGraph's architecture as well as its highly intuitive and scalable graph query language, GSQL. He is now Chief Scientist at TigerGraph.

Can you describe to us a current project/transformation you are working on?

Here are two areas of focus TigerGraph is working on:

Money laundering Detection and Prevention
The United Nations Office on Drugs and Crime estimates the total amount of money laundered globally in one year as 2 - 5% of the global GDP, or $800 billion - $2 trillion US dollars. We at TigerGraph have made it our mission to build real-time solutions based on Graph Analytics to detect and prevent money laundering at largest enterprises in the world such as Alipay, Alibaba's payment service. Fraud as well as money laundering are huge drains on the world economy and fund the worst activities, including drug trade and terrorism. I am proud of our lasting contribution from TigerGraph to help detect and prevent fraud, as well as money laundering.
Building World's First Real-Time Customer 360
Building a 360 degree view of a customer (consumer or business) has been an area of focus for a long time for enterprises as well as governments (Citizen 360). To date, solutions here have been batch oriented, providing customer insights based on stale and dated information. TigerGraph is working with innovative FinTech startups such as IceKredit to build the world's first real-time customer 360 solution. This is capable of processing customer information updates as well as analyzing them, all to provide insights around credit approval and financial risk monitoring in real time. I am excited about many of these projects and the potential value they will provide businesses.

What has this project taught you?

As economies around the world expand at record pace, financial activity is growing to reflect this growth. Fraudsters and money launderers are deploying increasing complex networks of synthetic or false identities, and accounts to route ill-gotten gains. Current solutions that are based on relational databases and traditional analytics solutions are falling short and aren't able to keep up with this complexity. TigerGraph provides an essential service to address this growing threat to the world's financial system.

A real-time customer 360 model has the potential to unlock new levels of efficiency for the enterprises and governments - from more tailored, personalized product and service recommendations to faster servicing of customer requests for credit, TigerGraph is proud to assist enterprises and governments of all sizes in this customer-centric transformation.

What excites you most about the future?

As the world becomes increasingly interconnected, possibilities are endless for enterprises and governments to draw key insights and achieve their full potential. The advent of graph databases and graph analytics can help accelerate this transformation.

If you could give 1 piece of advice to someone looking to start a career in data & analytics, what would it be?

Focus on customers, by understanding what they want and what they need. Customers will clearly communicate with you about they want. And as you dig deeper into their business processes and operations, you will also discover what they need. Combining what the customer wants and needs is key to achieving customer success.