Tell us a bit about your background and how you ended up in your current role.
I'm a chartered accountant by trade. When I graduated university in 2000, I was given a chance to work at Deloitte and become an accountant, with the dream of having a job for life. Since then, I've lived and worked in UK, Europe, US and Australia. An opportunistic career path has taken me through a variety of roles, and seen me land in Atlassian as their resident Work Futurist.
What is the biggest challenge you face within your role today and how are you looking to tackle it?
You'd assume the safe answer would be "the rate of change" and the normal clichés around "the world is changing so fast". But it's not that. The biggest challenge is the gap between what technology is capable of doing, and what we're capable of as humans. We're tackling this by decentralising decision making, empowering our teams, and providing them with a work environment (products, people, place, and practices) that enable them to be the change they seek.
What has been your biggest success for 2019 so far?
I set a personal goal of focus and balance. I've had high impact this year, without working longer. If anything, I've worked less.
In what ways are you working with your business to help drive value and insight driven decision-making?
We are constantly building our muscle around having a shared understanding of WHY we are doing, and WHAT we are doing. This context is essential to build customer value.
Describe a way that you help your organisation understand the value of good experiences
We have a team playbook which recognises experience as a first class citizen. We work on the basis of balanced teams, where we combine product managers, designers and engineers, to build products and experiences that are viable, feasible, and desirable.
How have you encouraged your organisation to be more collaborative?
Collaboration is at our core. We have values like "Play as a team", and "Don't f&%k the customer" which help us focus on collaborating and sharing great ideas.
What do you wish you knew about your customers that you don't know today?
I wish I knew what they wanted tomorrow? They can tell us what they need today ;-)
In which business area, function or metric, has your team made the biggest impact?
The biggest impact has been with our R&D teams that are building our products and services. This teams are naturally diverse with a mixed skillset, but that diversity can sometimes feel like a tax. Through making team work a first class citizen and by build self awareness around team health, we've empowered our workforce to own their own destiny and unleash their potential.
In what ways have you noticed a fundamental shift towards more customer focused culture within your organisation? Can you give me an example?
Customer focus has been at our core from Day 1. We've grown and evolved that over time. Right now, we share customer sentiment and happiness on a regular basis. We do lots of customer interviews and have leaned-in on customer product research to continuously better the customer experience.
About: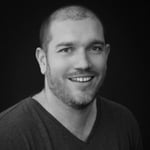 Dominic Price
Head of R&D, Work Futurist, Atlassian