Conversations at this two-day digital event centered around how to extract maximum value from financial services AI and analytics initiatives
With the World Economic Forum reporting that 64% of financial services executives expect to be 'mass adopters' of AI technologies by 2022, it's clear that the sector's AI revolution is well underway.
At this stage, AI's potential to transform credit decisioning, risk management, fraud prevention, banking personalization and more is well known. Instead, it was the question of how to extract maximum value from these strategic investments that loomed large at this year's Data Champions Online Financial Services EU digital event.
"In a lot of ways, the Chief Data Officer is becoming the new Chief Investment Officer," quipped Adam Meister, CFO at software company Talend. "[It's] about being able to have this asset and put it in the hands of the right user at the right time with the right application."
AI Adoption Depends on Trust and Buy-In
It's common for people who work at less AI-driven companies to have reservations about the technology. These may be around the effectiveness of AI systems, what embracing AI will mean for their jobs, or even the technology's fairness or explainability.
As Mahesh Bharadhwaj, Head of Borrower Analytics at peer-to-peer lending company Funding Circle, said, it's important to build an AI strategy that acknowledges and addresses these fears.
"AI is not about the technology, it's not about the data and it's not about the tools," he said. "These are necessary, but they are not sufficient conditions to ensure you have a viable AI transformation."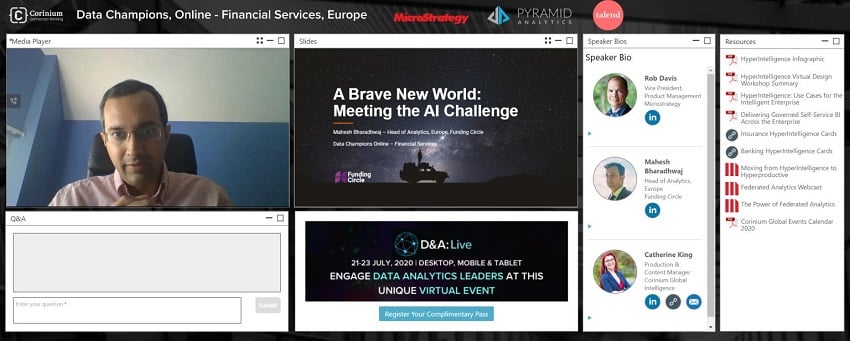 He argued that changing business processes and driving the organization-wide adoption of AI tools is only possible with both executive-level and broad organizational support.
"If you want to build a long-term sustained transformation, you need a whole host of other components," he said. "Central to these components is having an AI mission."
"It's useful to define that vision upfront," he concluded. "Then, as time and the circumstances on the ground change, updating that vision every 3-5 years."
Make AI Actionable Through Democratization
Data isn't the only thing that can be democratized using self-service tools. To make AI-powered insights actionable, they need to be communicated to key staff members in ways that integrate seamlessly with tools they use every day.
"Data scientists [need] to become storytellers," argued Dr Rob Davis, VP Product Management at BI company MicroStrategy. "As such, they need to have access to business intelligence tools that are integrated with their data science tools to allow them to do that data storytelling."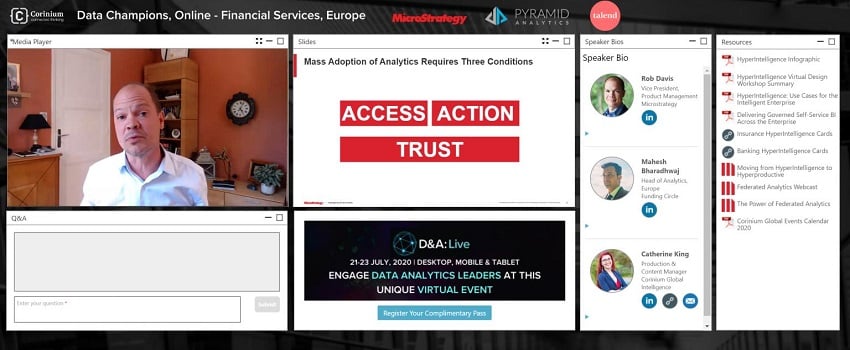 He added: "The second thing you need to give to people, and this is something we don't think about often enough, is a way for them to act on the data that they're given.
"You have to give them a way to go into their base systems and say, 'Oh, I've got this dashboard today. It's telling me I should do this upsell for customer X, and I can click on a button to make that marketing campaign happen.'"
Despite the progress that's been made in financial services AI in recent years, this kind of AI usage is still not widespread. One poll at this year's event found that no attendees work at organizations where more than 50% of staff have access to AI tools they can use every day. Just 11% work at companies where more than 30% of staff have access to such tools.
While it makes sense for analytics leaders to focus on the 'early adopters' who are eager to use AI in the early stages of their strategies, this finding suggests that the kind of mass adoption the World Economic Forum envisions is still a way off.
AI Success Depends on Strong Data Cultures
Frederick Visser, former Director, Data Strategy at investment management firm Fidelity, used his presentation to argue that no data strategy or AI transformation can succeed unless its architects can also establish a data-driven business culture.
"Culture eats strategy for breakfast," he said. "It doesn't matter how strong your strategy is. Its effectiveness will be determined by the strength of your culture, or data culture in this case."
An audience poll during Fred Visser's presentation showed that 44% of attendees have implemented a structured program to drive their organizations' data strategies forwards.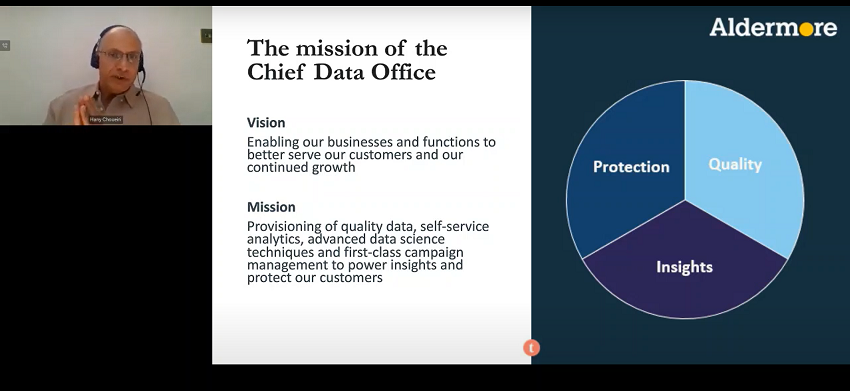 However, Hany Choueiri, CDO at retail bank Aldermore, argued that these dedicated programs are not always necessary to create environments where data and AI usage can thrive.
"Changing the culture is almost a byproduct of educating and [delivering] good data outcomes," he said. "Although it's great to have a culture program, I see it almost as an outcome of great data work and great objectives and great outcomes."
Both men agreed that changing the culture of an organization is about providing staff with the motivation and ability to adopt desired behaviors, then prompting them to do so at the correct times.
This is exactly what analytics leaders must do when designing new business processes that integrate AI-driven insights into staff workflows to make AI an operational part of their organizations.