'Ethics', 'strategy' and 'collaboration' were the words on everyone's lips when 115 data and analytics leaders descended on Berlin for CDAO Europe 2019 last week.
These three themes surfaced time and again during the two-day event that explored everything from digital transformation to 'hyper-personalization' strategies, the future of machine learning and beyond.
"One key thing I took [from the event], and I'm very happy to see it, is people talking about ethics," said Ricardo Rodrigues, Manager Pricing Strategies and Operations at Opel Vauxhall. "With the capabilities that the tools offer nowadays, things can quickly be misused."
New Data Technologies Raise Ethical Concerns
The question of which data uses are in the customer's interest and which aren't has been a fringe topic in the data industry for some time. But modern technological capabilities have given rise to a feeling that failure to act on these ethical concerns risks jeopardizing the public's trust.
"If people don't put ethics into their minds and into their processes, things can go wrong," said Rodrigues. "Then, we will destroy something that can be of great value to society."
ING Head of Data Transformation Camilla Schwartz-Björkqvist echoed this sentiment. Her presentation included footage of a stunt where a barista offers people free coffee in exchange for the data on their smartphones to illustrate how people react if they fear their data will be misused.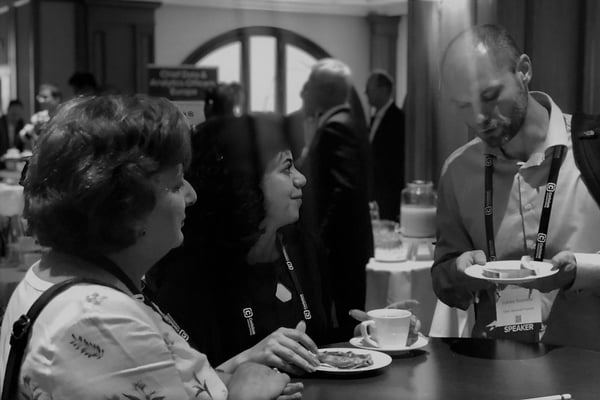 Conference attendees networking over coffee at CDAO Europe 2019
However, Murat Akturk, Innovation Director Analytics and AI at GE Healthcare, also highlighted the potential downsides of strict data privacy and usage rules.
"Some countries that don't have proper regulations on patient privacy and keeping their data secure, they go very fast," he said. "But this is also very risky, so we don't support going that way."
"On the other side, some countries also have regulations that are very strict, and it's stopping some innovations that are developing in the healthcare domain," he continues. "So, for that reason, governments are very important to support and provide data to the solution developers."
A New Culture of Data Collaboration is Dawning
The days of brands jealously guarding their secrets could be coming to an end. With interconnected business models and technologies on the rise, there's a growing feeling that companies that work together, grow together.
"We will not learn everything we need to know if we stay in the echo chamber of our organizations," Dennis Kessler, Head of Data Governance at the European Investment Bank, said in his opening address at the start of the conference. "We need to come here and mix with other people and find out what other practitioners are doing."
"Companies are becoming more and more open minded about sharing their practices and their data, so that we all improve as a group," Rodrigues agreed. "I like that finally people realise there is a common good."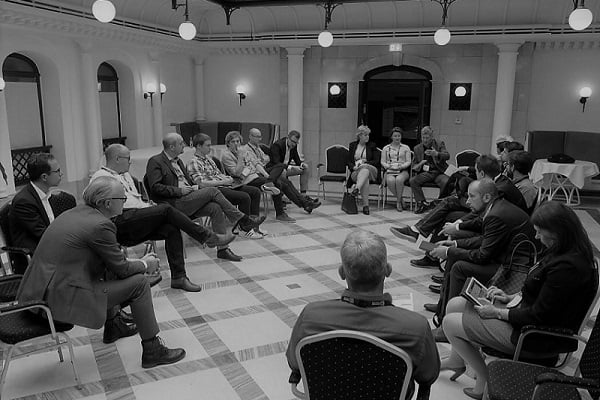 Data leaders explore their data challenges in a conference discussion group
The potential of increased collaboration to improve business and customer outcomes is especially clear in the healthcare industry. Akturk used his presentation to highlight several ways organizations could potentially deliver better patient care through increased data collaboration.
"In hospitals, there are available slots for MRI and CT scans, but they don't work together," he explained. "What if you made them work together and share available slots?"
Initiatives like this clearly have the potential to revolutionize the customer experience in organizations of all shapes and sizes. But they will only be possible if companies can work together to develop data products and services that serve this 'greater good'.
Many Companies Still Don't 'Get' Data Strategy
While businesses are starting to grasp the value of data, many still lack the necessary foundations to use data to generate useful business insights.
Rodrigues painted a clear picture of how this story is playing out in the historically conservative car manufacture industry. Opel Vauxhall once cared primarily about selling cars to dealerships, but now understands the value of insights about its end-users.
"This is completely changing the way we design cars, the way we build cars, the way we sell cars and the way we make cars available," he said. "That forces us to have totally different systems and a totally different way of seeing data."
He added: "We need to become a lot more agile with data, we need to be able to connect all the dots (which we didn't do in the past) and we need to be able to predict where my customers or my segments are evolving, too."
"Data management is the data design, putting that data design into practice and making sure that it happens" – Tomas Sanchez, Chief Data Architect, ONS
Of course, putting these essential building blocks in place takes time. Tomas Sanchez, Chief Data Architect at the Office for National Statistics, argued that many data programs deliver poor results because too many businesses try to run before they can walk.
"In order to have complex technology environments in companies, which have multiple systems and multiple services, you need a persistent underlying user structure that joins all these services together," he said. "If you look at how data has evolved now, this has not been the case.
"Ultimately, the layer that is missing is what I'm calling 'data design'," he continued. "This is what will essentially let you know what data you have and what it is and what it means."
Key takeaways
Concerns about how powerful technology is becoming have propelled data ethics to the top of the European data agenda

Data-led organizations are becoming more open to sharing ideas, working collaboratively and improving together as a group

Analytics projects are more likely to succeed when organizations take the time to put strong strategic foundations in place first
Don't miss Chief Data & Analytics Officers, UK taking place in London, 11-12 February 2020. Find out more and register today!