Working in central London can have some amazing perks, but we still have to physically travel to an office and for most, it isn't a pleasurable experience.

One sweaty, summers morning after being pressed against the train door from Bethnal Green to Oxford Circus, I decided I deserved more. I decided to quit commuting and, in turn, my job.

Just under two years ago, I joined Corinium, a company that's entire workforce is completely remote. Having worked from home frequently I was comfortable working independently, however the first few weeks did take some adjusting.
I started by replacing the time spent on my morning commute to cook up outlandish breakfasts and skip ahead of my girlfriend on any Netflix show we were watching at the time (Neither of which turned out well for me).
As I settled into Corinium I got a pretty good understanding of the types of people who worked here - it was eye-opening. Everyone had their own motivations for joining, all unique, but all stressed how they felt their personal, and work lives had improved because of the switch to flexible, remote working.
I work with some pretty interesting characters here with some awesome side hustles, a beer yoga teacher, a Leith's trained Chef, even our CEO was a skilled horticulturist.

After hearing more about my colleagues I began to wonder, maybe my morning routine wasn't as productive as it could have been. Now, might be a good time to start my side hustle.
Hot sauce genesis
My flatmate and I are hardcore hot sauce lovers, we've been keen members of hot sauce clubs, reviewing ranking and sharing our favourites with other enthusiasts; and for a few months ran a website doing just that.
We quickly saw our blog start to take off. Every other week we received new samples to taste, life was pretty good. Coming from a marketing background, I knew it was only a matter of time before we would be able to monetise the traffic we were getting. One snag, we are both, admittedly pretty bad cooks and bringing out our own sauce wasn't an option just yet.

Running the blog was pretty key to how the initial business idea formed, in just six months we tasted hundreds and hundreds of sauces from small batch makers all across the UK. There was certainly no shortage of supply when it came to hot sauce. Overwhelmingly, the vast majority of buyers we spoke to were desperate to try new hot sauces but didn't necessarily have the time to find a new bottle each week from a different brand. This was our light bulb moment we'd identified our perfect audience. From this, we started Bauce Brothers, a hot sauce subscription box, focused on bringing small batch craft hot sauces to the masses.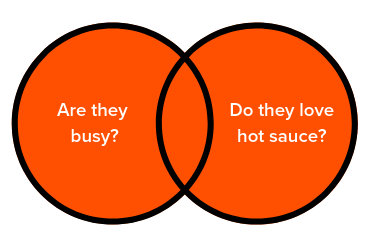 Coming out to Corinium
At other jobs I've had, telling your colleagues or boss you just started another business on the side can be career suicide. Are they going to trust you to manage your time effectively? Will they begin to doubt my commitment to my role? Will I lose interest in my day job?

I would be lying if I said I wrestled with these questions, when telling my colleagues. We are pretty open here and as expected I got a huge amount of support and around 70 new followers on Instagram. Great result!

What did surprise me however was my CEOs reaction, not only did he love the idea and want to subscribe, he offered me resources, advice and even investment to help get the idea off the ground. I felt even more committed to the company as a result.
Three months in and 50 subscribers later, our hot sauce subscription service is in full swing. Not only is the side business doing well, but my department is growing aggressively as we take on more interesting and exciting projects. The success of both has been down to the support and autonomy given to me by my managers. Not having to do the rush hour commute is just the cherry on top!