Tell us about your experience in working with the data analytics community at Genpact? Why do you like working in this space?
We love to solve complex business challenges through data and to do that, you need to have the best talent.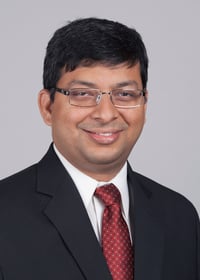 Our Analytics team had an exponential growth after the acquisition of Rage Frameworks, a leading AI firm. Ever since that moment, we have accelerated our own transformational journey towards augmented intelligence.
And in order to be the best, you need to attract the best talent. Therefore, we have developed several initiatives to, not only train our internal workforce but also, attract top talent through several recruitment efforts worldwide.
The challenges we have seen so far are really attractive given our own company's trajectory: Genpact has transformed itself during the last 20 years and it is because of our own journey that we have become not only domain experts, but also have come to fully understand the potential analytics and data present to the future of our clients and their industries.
From Business Process Optimization, automation, machine learning and deep learning to augmented intelligence, we are really excited for the work we've done so far. Most importantly, we're excited for the future of what we call, instinctive enterprises, which are companies that learn to evolve, immediately respond, and thrive into the future by moving smarter, faster, and closer to their customers using data, AI, and other advanced digital technologies.
What are some of the common roadblocks you've helped your clients work through?
We have come across many challenges depending on the industry our clients operate in, but if I had to define a handful of common roadblocks to succeed, I would say:
First, lack of explainable AI, which centers on the ability to answer the question, "Why?". This simple word means we understand the reason behind our actions and intentions.
Second, low-data density environments, which means the challenge of collecting, cleaning, and storing data to analyse.
The third roadblock would be the need for richer knowledge graphs. Knowledge graphs capture context and relationships and are used to train AI-based data models and classify incoming information in the right context, which is truly important on this transformational journey.
Lastly, there's a recruitment challenge. Data-savvy talent is not easy to find. Data scientists are critical to success. But even more importantly, data science professionals with business expertise are a scarce but highly valuable resource.


Where have you seen CDAOs deliver the most significant ROI within the business? (Or the most value to the business)
One of the examples I can give you for significant ROI is through our strategic partnership with the Envision Virgin Racing. Genpact has partnered with this Formula E team by using our augmented intelligence expertise to help them achieve more podium finishes. Through working with them, we have seen how data improves not only the performance of the driver, but also predicts the performance of competitors on the race day.
With Envision Virgin Racing team, we've not only collected data, but created specific data to address specific performance challenges. For example, we have used simulators before each race to learn the braking points, where to accelerate, and how to manage energy. The ROI? The racing team finished the last season in the top three and created tremendous learning capabilities for the future.
Another example for ROI, would be an auto insurance company which can feed a machine, a library of photos of cars that have been totalled, along with data about the manufacturer and model of the cars as well as the ultimate payout. In this way, the system can be "trained" to review incidents going forward, and even recommend payouts. This streamlines the review process – a positive for the company and customers alike. We call this prebuilt solution, Cora Pretrained AI Accelerators, an idea I will go come back to in a bit.


What business challenges are CDAOs best positioned to solve for the C-suite? How can they show ROI for the business?
Let me start by asking an open question:
If data is indeed the gold that enterprises mine on their way to an AI-first world, how do we extract, refine, and make it available in its most efficient manner?
A CDAO is the best person to address this question. Given its panoramic view on different challenges through data, his or her role is key to unlock the potential of any company.
Faster and better decision making is also another of the main results of having an effective Analytics team that deliver strong ROI. There might be a perception that CDAOs spend their days looking at data, but a large part of the job – especially early on – is sitting down with people, understanding their challenges, and looking for ways to use analytics to help them. Over time, you start to identify clear outcomes and ways of helping people, which unlocks the doors to do more. CDAOs are best positioned for being the evangelist using every opportunity to share where and how analytics can generate business impact, the problem solvers across business operations, and show how to make the most of analytical insights on behalf of the customer. The concept of human in loop with machine intelligence consistently applied will solve the right problems, identify data fit for purpose, and bring directions on the right solution. CDAOs bring the right set of partners, influencing strategy driven by data and business intelligence.
We work with CDAOs to help them identify high value use cases to pursue for the organization, e.g., for a CPG company, we helped reduce new product launch cycles by 40%. In financial services, we helped meet regulatory requirements in a timely fashion by designing a process, system, solutions, and organization to meet compliance requirements. In pharma, we helped with contract management by integrating complex data sources. We also shape the business conversations from human to more algorithmic to get multi-fold return on investment.
How has the CDAO toolkit evolved and where does Genpact fit within that?
From process optimization, to automation, machine Learning and Artificial Intelligence to pretrained accelerators, the CDAO role is always evolving.
During the last AI Summit in London, we launched our Cora Pretrained AI Accelerators, which are niche solutions that solve highly specific problems that we have identified given our strong business and process expertise.
Cora Pretrained AI Accelerators allow enterprises to leverage our unique combination of domain knowledge, labelled data, and AI engines relevant to business processes. As a result, our clients can realize the value of their AI investment sooner and scale AI across their enterprise using these proven accelerators.
We truly think niche solutions will be the next evolutionary step to create value for companies using their data.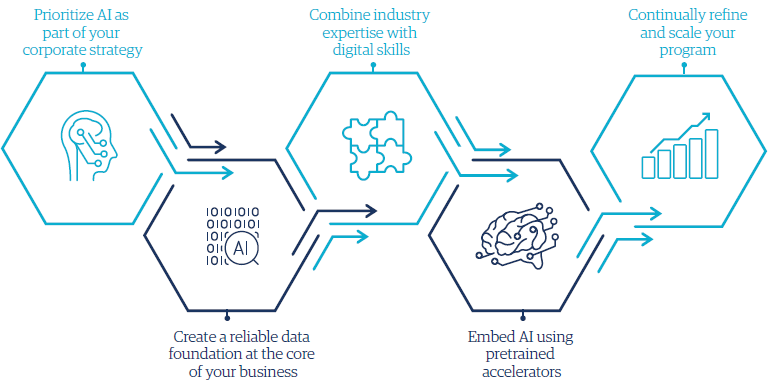 What project has been the most rewarding for your team this year?
Genpact does a lot of work across the world with F100 companies on different AI challenges, however I think the most rewarding project this year would be our alliance with the Envision Virgin Racing team. As I mentioned before, this partnership has allowed us to work with a powerhouse brand in the E Prix arena and by doing that, enhance the team's performance through our analytics capabilities and during the process, expanding our learnings, views, and expectations on Analytics and augmented intelligence.
At the same time, we have also done different engagements with a broader analytics audience through hackathons. The one I think of is "Data for good", which attracted highly qualified talent from all over the world to solve societal challenges through the usage of open data sets.
One of the results that came out of this hackathon was an initiative to improve students performance and studying methodologies through the usage of data, those sort of results might not have an impact on the business, but they do impact people around the world on very tangible day to day situation, and we address that through the usage of data.
This blend of work with clients and the analytics community has been highly rewarding to our teams.
Another example is the work our Analytics team did as part of our CSR initiatives with a school in India. By analyzing data from their students' performance tests, training programs, and classroom attendance, we created a detailed program that has proven to greatly improve student engagement, their reading and math proficiency, and overall student performance. It all started with analyzing data they had on hand and using insights to recommend the right actions to greatly improve overall student performance.
What keeps most Chief Data & Analytics Officers up at night?
There's many challenges for CDAOs from my perspective.

The way to unify data, make it accessible, and educate the workforce so they can make informed decisions in a heartbeat, would be the first things I would mention.
But there's also the human side. How do we keep the human on the loop and realize the augmented intelligence promise in which we firmly believe? Augmented Intelligence is the way in which machines accelerate human intuition for better and faster decision making. That is a key step in the right direction, we believe. And on top of that, ethical AI is something that naturally flows in, as I dig deeper into the challenges for CDAO's.
Let's also not forget about specific challenges such as biased data, data traceability, or data security and storage.
As you can see, this is not only a crucial but challenging role, with a lot of scope and possibilities to deliver impact.
What major disruptions are on the horizon that CDAOs should start strategically preparing for now to stay ahead?
One of the biggest challenges will be the interaction between humans and machines. This interaction will require upskilling and training for new skills and fulfil the augmented intelligence promise, which is a perfect blend of human judgement enhanced by machine intelligence to help people make faster and better decisions.

Then, there's also an ethical challenge to understand the purpose of using AI, potential for bias, and security of storing data.
This last item is linked to the need to have the right infrastructure to store and access the right data at all times. We can't forget about protecting that data as well.
The CDAO Community is still in its infancy compared to many other C-suite positions. What value do you feel a face to face peer experience like the Chief Data & Analytics Officers, Fall event bring to the community?
The opportunity to not only meet peers, but exchange best practices, learning paths, cross industry examples, and so many other things that can only happen when you meet face to face.
As you mentioned, it is crucial to network and create healthy relationships since many of us will have a say in our companies in relevant matters like data privacy, ethical usage of AI, or automation.
This is why we are not only joining the event but also, we are eager to connect and develop a thriving community with CDAO's.
How does Genpact's solutions give your clients a competitive advantage?
One of the main engines to fuel our client's growth is our bilingual talent. They are the extremely talented folks that support our clients using their unique blend of business and process expertise and analytics and digital technology savviness. Using their fluency in both worlds, they identify opportunities to deliver real business impact such as revenue growth, competitive advantage, sharper corporate vision, and innovative new products. This enables us to help our clients accelerate their results in the most effective way. The bilingual talent I mentioned is a key element of how we've become a strategic partner to our clients.
At the same time, our domain expertise and years of experience, was the genesis for our pretrained accelerators which – as I mentioned before – are prebuilt solutions that address specific business challenges.
But I'd say the most important element is our deep commitment to unlock the full potential of our clients. We are a client obsessed company and our client-oriented culture reflects that.
For fun, tell us about the company culture at Genpact and why people love to work with your team.
Is great working at Genpact, which is –literally – a 21-year old start-up with over 90,000 employees worldwide. I say that because we are committed to continually disrupting our ways of working to get better and reinvent our company by supporting an entrepreneurial spirit.
Also, I love the commitment we have on being an inclusive work place, which is also prepared to upskill and retrain everyone through our Genome program, which aims to build the workforce of the future.
The scenario we have here, to not only inspire but help companies achieve its full potential, is a once in a lifetime opportunity. This is why we've launched our "Dream in Digital, Dare in Reality" recruitment effort with which we aim to attract global talent eager to join us in our continued transformational journey.
At the end of the day, it is a lot of work, but we are happy and excited to lead the future along with our clients.