Tell us about your experience in working with the data analytics community at TheMathCompany? Why do you like working in this space?
TheMathCompany has given me the opportunity to work with a wide spectrum of people from and outside of the data analytics community. We have been instrumental in solving industry-specific problems for our clients that have led to immense value generation for them – both direct and indirect.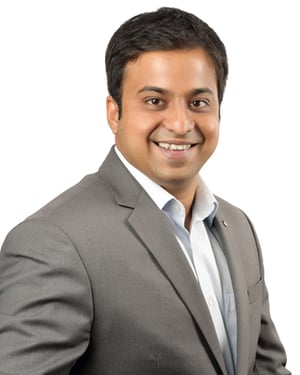 Our aim is to enable our clients to become analytically self-sufficient. In order to achieve this, we devise and implement comprehensive and robust analytics strategies and help them in their analytical journey – be it building Centers of Excellence for them from ground up, or developing solutions for problems specific to a business unit within their company.
With a holistic range of services across advanced analytics, data engineering, business process reengineering, automation and solution deployment, we are consistently disrupting the analytics services and product space. We help organizations design analytical road maps, solve complex business problems end-to-end, build Centers of Excellence and organize enterprise-wide learning programs.
I like working in this space as the current trends in this ever-dynamic industry make the environment highly intellectually stimulating. As this industry is very nascent, the workforce comprises of younger employees, who have a diverse spectrum, a zeal to learn, and always have high energy. The work that TheMathCompany does is reshaping the AI & ML industry, which makes our work very important and we push harder than usual to achieve our goals, and transform the data and analytics industry.
What are some of the common roadblocks you've helped your clients work through?
At TheMathCompany, we have helped more than 30 global fortune 500 or equivalent organizations with next-gen AI and ML solutions that have had billions of dollars in business impact.
Apart from delivering high-impact, dollar-saving solutions to our customers, we also run large scale analytical cultural transformation exercises – impacting the DNA of an organization and changing the way decisions are taken right from the grass root level. Some examples are:
Built Analytics Center of Excellence's for large enterprise clients having more than a billion dollar impact
Analytically transformed one of the world's largest CPG organizations in the world by running a global program for over 70,000 employees
Helped a Fortune 500 personal care enterprise save an estimated $13 million - courtesy on-time on-point data & analytics powered operations
Developed game-changing sales forecast, product launch and marketing optimization insights for a billion-dollar footwear retailer
Helped a legacy software company in medical admissions space discover and validate the value of data analytics for their products and saved a potential $11 million in revenue via implementation and productization of analytics prototypes, building a database and setting up a data pipeline
Developed forecasting frameworks for one of the world's largest, best-rated airlines, leading to an estimated additional annual savings of over $5 million
Helped a popular Casino harness analytics to enjoy higher patron engagement & returns
Where have you seen CDAOs deliver the most significant ROI within the business? (Or the most value to the business)
The span of data and analytics has now expanded to cover pretty much every aspect of the business. A few years ago, organizations were experimenting analytics in areas that gave immediate revenue/profitability opportunity like Sales, Marketing, Operations etc. Today, however, analytics is all-pervasive and even the support functions like HR, Legal, Finance, are deriving as much benefit out of it as core business functions. Analytics that organizations are pursuing today can be divided into four broad categories: those that support decisions that help direct revenue lift, those that support decisions that help extract operational efficiencies resulting in cost saving, those that help in reducing risk or uncertainty, and finally those that help enhance customer experience or employee experience.
What business challenges are CDAOs best positioned to solve for the C-suite? How can they show ROI for the business?
The span of impact of data analytics has definitely reached C-Suite. CDAO can help create models that can predict outcomes of different strategic scenarios. Second, CDAO team would create data strategy and help various BUs procure the right data so that all BUs are empowered to create analytics driven insights, while data protection and other compliance mandates are addressed centrally. Also, CDAOs create the right capability in the organization so that each member BU can get the required analytics to maximize their effectiveness. Most importantly, CDAOs hold binoculars to the world, understand the latest trends on how organizations are using analytics and diffuse the best practices to other C-suite members.
How has the CDAO toolkit evolved and where does TheMathCompany fit within that?
A common mistake that people make when talking about a CDAO's toolkit is confusing it with the toolkit of a data scientist. They are different. While a data scientist's toolkit can comprise of Python, Excel, and SQL, a CDAO's unique ability really comes in the way she/he synergises and manages various resources like data, data scientist, infrastructure, consumption readiness of the business, and keeps all these in line with the company's business strategy.
Good CDAOs have a real appreciation of the fact that analytics and data are there to support the business and not the goal in themselves, and have an ability build and execute an analytics strategy that is in line with business strategy.
TheMathCompany helps CDAOs create a robust data and analytics strategy that aligns with their company's unique needs and help them implement it to extract the maximum value, within the context of the company's business strategy.
What project has been the most rewarding for your team this year?
This year, we have already gone well past doubling our revenue and have implemented many projects that have created multi-million dollar value for our clients, through increase in their revenue/profitability or by indirectly impacting their business through enhanced customer experience. The most rewarding part is not the solution itself, but the fact that we have implemented those solutions on the ground and helped them realize the value through engineering, production deployment and change management. While we produce world's best data science solutions, our customers value the fact that we go beyond just producing data science solutions and go the whole nine yards to ensure they realize value from these solutions.
What keeps most Chief Data & Analytics Officers up at night?
The data and analytics industry is at a stage of infancy and the kind of challenges CDAOs will face depends on the organization's analytical and digital maturity and the industry they are a part of. That said, there are some common things that all CDAOs need to worry about.
Most companies are using structured and unstructured data coming from various sources in different forms; the insights coming out of analytics projects are only as good as the data quality; having a central repository of data that is clean and reliable and is the central source of truth is the primary concern of any CDAO
Most analytics teams are not equipped to reliably translate business needs into analytical needs or analytical insights into business insights; this hinders the value that AI and analytics can create in the organization; creating a good translational layer should be a priority of the CDAOs
Extracting insights that are useful enough for the business while protecting the privacy of consumers' data
AI, being a powerful tool, has to be used with sound judgement; ethical use of AI will be a prime concern of most CDAOs
What major disruptions are on the horizon that CDAOs should start strategically preparing for now to stay ahead?
Just like most business users use excels and power points for their day-to-day purposes, using analytical tools/analytically-driven dashboards will become a norm in the near future. CDAOs should focus on productizing analytics in their organizations either through custom-made products or off-the-shelf products that can scale and democratize analytics.
As analytical productization happens, creating a culture of AGILE in the organization will become more important than ever.
As organizations become mature analytically, CDAOs have to set up processes to continuously upskill and reskill their workforce – the business folks, to become better consumers of analytics; analytics workforce, to move towards becoming full-stack data scientists.
The CDAO Community is still in its infancy compared to many other C-suite positions. What value do you feel a face to face peer experience like the Chief Data & Analytics Officers, Fall event bring to the community?
There is no standard path for becoming analytical mature organization, sharing experiences between CDAOs on what has worked and what has not – will be the major value add. Because each of them has their unique experiences, cross-pollination of ideas can create knowledge and devise new ways of doing things. Creation of this community itself is a value add so that relationships can be developed and be made use of in the future.
How do TheMathCompany's solutions give your clients a competitive advantage?
While the market was brimming with data and analytics service providers, there was one gap – Analytics service providers in the market were solving problems for clients without enhancing their organizational capabilities, due to which the analytical maturity of the client remained stagnant, while their analytics dependency on the service provider grew. This is where the differentiating factor of TheMathCompany was defined. The definitive difference that TheMathCompany would bring is in helping organizations tangibly enhance their analytical maturity through each solution we implement.
For fun, tell us about the company culture at TheMathCompany and why people love to work with your team.
TheMathCompany is built on a bedrock of trust. The initial team at TheMathCompany has been an integral part of the journey through highs and lows, even in the early days when customers and funds were not easy to come by. The team had staunch faith in the founders, their vision, and TheMathCompany's value proposition from the start; this faith continues to trickle down to the entire TheMathCompany fraternity.
The employees of TheMathCompany get an opportunity to work on solving problems for diverse sectors and industries, thus honing their skills to become full-stack data scientists. Moreover, TheMathCompany allows employees to take up multiple roles outside of client delivery, wherein they can pursue their passion and do what they love. We have a corporate band – Co.rus, a CSR team – Co.exist, an event organizing team – Co.Creations, an adventure club – The Endorphin Chasers, and more.
TheMathCompany provides all employees with a favourable and collaborative environment to innovate – be it in terms of next-gen solutions provided to clients, developing and running a futuristic innovation lab, or coming up with capability enhancing solutions for internal teams.
At the core of TheMathCompany's success, lies its the culture, which enables its employees to do the right thing by instilling trust in one another and offering a conducive environment for the employees to grow whilst enabling and growing all stakeholders' businesses.