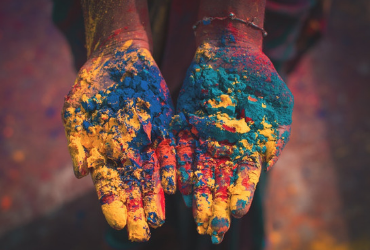 Holi is also known as "the festival of colours" and "the festival of love and compassion", is the most vibrant of all Hindu festivals. It marks the end of winter in India and welcomes the spring. On this festive day, people play with colours, meet and greet one another and create new beginnings. Although the festival originated in India and is still widely celebrated there as a religious festival, it has been adopted in many places around the world.
Story behind Holi
Legend has it that once, there was a powerful king named Hiranyakashipu. He was a devil and was hated for his cruelty. He considered himself to be God and wanted everybody in his kingdom to worship him like one. However, his own son, Prahlada, was a devotee of Lord Vishnu and refused to worship his father. Angry with the disobedience of his son,Hiranyakashipu tried killing his son several times, but nothing worked. He then asked his evil sister, Holika, for help. Holikapossessed a special power of being immune to fire. So, to kill Prahlada, she tricked him into sitting with her on a pyre. But due to her evil intentions, her power became ineffective and shewas burnedto ashes. On the other hand,Prahladagained this immunity andwas saved.

Why do we celebrate Holi?
Holiis celebrated to mark the triumph of good over evil. It stems from ancient Indian mythology.·Holi is marked at the onset of spring and is meant to celebrate the harvest. It celebrates new life as well as energy associated with the season of spring. Holi is also called the festival of love because love and compassion are celebrated during the festivities
Holi is a traditional Hindu festival, it is a way of expressing the rich cultural and traditional heritage of the Hindus. It's Importance. Holi is an important festival of the Hindus, they feel pride in performing the traditional rituals. As a festival of joy, it gives us the message of friendship and goodwill. On this occasion, we forget our old quarrels and mix with all freely. Our society is stratified society and divided into several classes into several castes and classes. The colours of Holi remove the distinction between rich, poor, high-caste and low-caste. It is a happy occasion when we forget our cares and anxieties.
H

a

p

p

y

H

o

l

i

!