In anticipation of Lior Arussy, Author of 6 books and Renowned Thought Leader on Customer Experience, presenting at Chief Customer Officer Sydney, we asked Lior to answer some questions about what he believes is important when it comes to Customer Experience Transformation.
1. Is it important to have a CCO in modern business?
Today's business is defined by its ability to create customer relevance. It's the customer, not the product that defines modern business. A CCO, therefore is at the core of the business value creation.
2. Why has the business world gone CX crazy?
When customers took over the relationships and became empowered to voice their opinions, businesses were forced to listen to them and take actions. Additionally, in a world where products and services are being commoditized at a faster pace than ever, customer experience is your only hope to differentiate.
3. What is the most commonly overlooked opportunity in CX improvement?
Value visualization. Demonstrating to customers the value they did receive is equally as critical as delivering that value. Most organizations fail in that area.
4. How important is the technology a business chooses in determining CX Success?
Technology is a tool. There is an overemphasis on technology at the expense of strategy, process redesign, empowerment and culture. Good technology is important but an empowered, passionate organization will always win even with less than great technology.
5. What is the most common reason that CX programmes fail?
Focus on numbers, not real change. Looking for shortcuts as opposed to real trade-offs and true transformation. You can't undo years of product centricity with a quick voice of customer platform. It takes more than knowing the numbers to create real meaningful change.
Another is employees who are cynical and do not believe in the proposed transformation. If your employees do not believe, how would your customers trust you?
6. If you could only choose one of an Employee Experience or Customer Experience programme to implement in a business which one would you choose and why?
Employees experience every day. Passionate, empowered employees can change the world without them no technology or experience will happen. They are the experience creators.
Authors:
Lior Arussy, President, Strativity
One of the world's authorities on customer experience, customer centricity and transformation, Lior Arussy delivers results. His strategic framework converts organizations from product- to customer- centricity. It is drawn from his work with some of the world's leading brands: Mercedes-Benz USA, Royal Caribbean Cruises, Thomson Reuters, HSBC, E.ON, FedEx, SAP, University of Pennsylvania and Johnson & Johnson. His methodology enabled Mercedes-Benz USA to take the number 1 position in customer satisfaction in just two years. Another client, a European logistics corporation, leapt from 3% annual organic growth to 44% annual organic growth in just two years.
Mr Arussy, described by Fast Company Founding Editor, William C. Taylor, as "one of the most provocative business thinkers I know" has also had his achievements recognized by Consulting Magazine, which named his company among the Top 7 consulting companies to watch in 2015 and one of the fastest growing Consulting Firms of 2015. He received the 2015 SmartCEO Circle of Excellence Award and in 2015 was honoured by CRM Magazine who presented Lior with their "Influential Leaders" award. Arussy was named the #2 Top Global Guru in Customer Service by Global Gurus.
Prior to establishing Strativity Group, Inc., Mr Arussy held executive positions at Hewlett-Packard among other companies.
Arussy is also the author of six books including the recently released book Exceptionalize it! (2015) and Customer Experience Strategy (2010). In addition, he has published over 250 articles in publications around the world including the Harvard Business Review.
His accomplishments have been recognized by leading press and analysts such as ABC, The Wall Street Journal, The Financial Times, The Times of London and MSNBC. Mr Arussy completed his undergraduate degree at Case Western Reserve University and received his MBA from Weatherhead School of Management.
See Lior speak at the Chief Customer Officer Sydney, 1-2 November, as he makes his Keynote Presentation on Customer Centric Culture by Design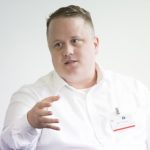 Ben Shipley, International Business Development and Partnership Development, Corinium Intelligence