Tell us a bit about your background and how you ended up in your current role.
I've got a healthy dose of corporate curiosity – so I started out with an engineering degree, but have experience in strategy, business development/corporate finance, and marketing. It's this curious nature, plus my time setting up new business ventures for the Virgin Group, that has left an indelible desire to be the customer champion, stand up for the little guy, and work out innovative ways of doing business. So, when Steve and Luke, the co-founders of Volt, asked me to help them shift back to their vision of differentiation around customer experience, it was an ideal next step.
What is the biggest challenge you face within your role today and how are you looking to tackle it?
We are looking at the banking market entirely differently.
The traditional approach of the banking industry for decades has been to sell a product, and then use propensity models to cross-sell other products to 'deepen' the relationship.
To continue reading the interview with Maria, please complete the form here
About: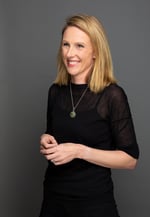 Maria Loyez
Chief Customer Officer
Volt Bank