Ahead of the Chief Customer (CCO) Sydney, we caught up with Troy Barnes, Chief Customer Officer at Pizza Hut Asia Pacific. We discussed how CX has progressed in the past 18 months, the biggest challenges organisations face in regards to CX (and how to overcome these challenges), how CX will evolve in the coming years, and much more!
Tell us a little bit about Pizza Hut and your approach to customer experience.
My role as Chief Customer Officer is a new role for Pizza Hut APAC. The core focus is leading the end-to-end customer experience, from ordering online through to delivery to customer's doors or in a restaurant across Asia Pacific. This covers both the physical and digital experiences our customers encounter and the team in stores and building capabilities across markets providing those experiences to our customers.
In terms of our approach, being in an industry which has such a high frequency of interaction between business and customer, having a meaningful and an aspirational vision for where we want to be with customers is key, it sets the tone. Inside of that we emphasise the importance of understanding our consumers behaviour, their preferences and aiming to be top of mind for them. By providing an easy, consistent customer experience at every touchpoint and weaving these seamlessly together to provide a great customer experience while managing and fulfilling customer demand.
The opportunity is working out how to get more and better, in terms of frequency and more customers coming to us as a first preference when it comes to choosing food options.
How would you describe the evolution/progression of the customer experience in the last 12 to 18 months? What's driving this?
Generally, the CX base has continued to get a lot more interest and focus from the highest level, as businesses are beginning to see the impact that CX has on its sustainability and business growth potential. As a result, businesses are making sure that is at the forefront of what they do.
I still see there is plenty of room for growth in CX, particularly around empathy, experimenting (new ideas and solving customer problems) and customer journey mapping/experience mapping. Building a culture around truly interacting with and understanding your consumers is not something I see as often as we should or it is often handed to third parties which will not get that cultural aspect inside the organization. It's a different mind-set and a different way of going about your business, but until you get that level of empathy and understanding, I don't think you can really grasp it's full potential of it, and I think there's room to grow.
What do you believe to be the biggest challenge faced by organisations in this field today, and what can be done to overcome these challenges?
The challenge I see most often is, and it might sound strange, but it's getting people out of the building - journey maps can't be carved out in the office. A lot of organisations still get stuck in that space, I've learned through some of the work that we've done, particularly in the innovation space where, a big piece of that work, is truly getting out there to understanding what kind if problems really matter to consumers that they're willing to have solved.
Another challenge comes about by the way people interact in today's society. As we move more into the digital space, people have gotten so accustomed to communication on their phones, they find it a challenge to have a regular conversation with strangers. I see this as a huge opportunity, and a potential differentiator if you can get that muscle right in the organisation, it cost no money, it can be done extremely quick and the outcomes and value generated from it can be limitless. So, I think if organisations can spend more time in that space, there's some huge upside to come.
What should CCO's prioritise in order to be successful?
You need to start with a vision and strategy that is simple, clear and aspirational to the organization, and everyone is bought into it. Then it's important to ensure the foundations are in place to accelerate forward. As a business, primarily, two objectives are focused on the ability to attract customers and the second is the ability to retain them for as long as you can. And then, around that I think it's just really getting deep into the culture and mind-set to create the muscle, the willpower and the know-how of being able to leverage that to bring value to the organisation. In my opinion, you need these key ingredients first as well as the commitment to the business from the top level and for that commitment to permeate through the business.
How do you see customer experience evolving over the coming years?
Certainly, the digital space will continue to come to the floor in terms of the impact it will have, I think the trick with that is ensuring that the human interaction will become the driver for it, whereas the digital drive for change doesn't become the new shiny toy syndrome in some organisations.
Moving forward with all of the new technologies, the way the industries are changing, work and business models are changing, whether you design it, create it, build it, draw it, feel it, everything to do with customer experience is human driven. As a result, organisations need to make sure that it's front and centre, regardless of the outcomes of digital or of physical experiences that you create, they're all designed, understood, felt – they're all human elements, and if that's internalised by organisations, I think that will be the next driving force – and has the power to set an organization apart from others with a unique and distinct advantage particularly for those who operate in a commoditized industries.
Lastly, I think CX – whilst still verbally spoken very broadly across the globe – in many spaces is still in its infancy, which to me shows that the upside is enormous and the journey ahead is a very exciting one.
About: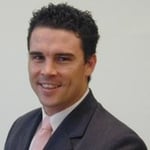 Troy Barnes, Chief Customer Officer at Pizza Hut Asia Pacific
Join Troy at the upcoming CCO Sydney conference, taking place on the 30-31 October.