It's not often that two of the things you love collide and it's even more unlikely when you love yoga and beer. But it's even better when you can use beer and yoga to do some good this holiday season
and help raise money for the Alzheimer's Association.
The Yoga Part
My full-time job is Events Marketing, but my part-time love is teaching yoga. I first began my personal yoga journey in high school, when I would attend weekly yoga classes at my local gym. A few years went by; I went off to college, graduated college, moved, moved again and found my way back to the local gym in my hometown and, naturally, back in yoga classes.
After a few months passed, I made an impulsive decision to start a certification course to become a registered yoga instructor. I was lucky to find a studio close to home that would allow me to gain my 200-hour certification over the course of one year, while still working full-time at my job in Manhattan (a two-hour commute by train from where I was living).
Without getting too mushy or taking you on a full spiritual journey, the entire experience completely changed my life and in February 2015 I was officially a registered yoga teacher. I quickly started teaching classes at the same local gym where I found my love of yoga and at the studio where I was trained but it wasn't until the middle of 2016 that I had my first Beer + Yoga encounter.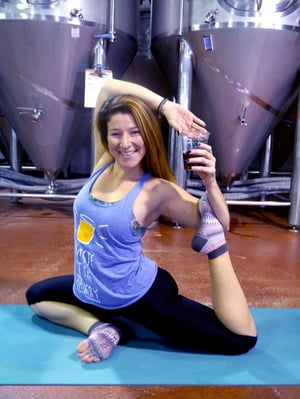 The Beer Part
My friends had first introduced me to Beer + Yoga when a class was being held at a local brewery on a Saturday morning. Now some people might find the combination odd but I was absolutely in love. The class was held inside the brewery and for the same price as a traditional yoga class; at the end of class, you got a free beer. Is there anything better than that?
Being a well-seasoned Conference Marketer at this point, I took it upon myself to walk right up to the event organizer, introduced myself and shared that I would love to be involved. A few months passed by and I received a call from, the now Founder & CEO of Beer Fit Club, Sophia Del Gigante. Sophia was looking for a new instructor and she wanted to know if I would be interested. Well, it didn't take long before we were working together and I was teaching Beer + Yoga events all across Long Island, New York.
As Beer Fit Club started to grow, we evolved the class to add the beer into the practice (yes, you read that right – we drink beer and do yoga at the same time) and even started hosting events in New York City.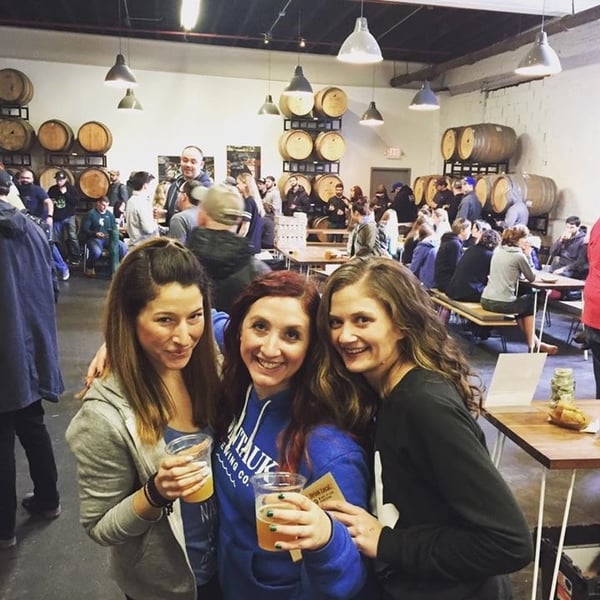 The Charity Part
As fun and silly as a regular Beer + Yoga class are for everyone, we do think it's important to give back to the community that helped build us into what we are today.

Each December we host an Ugly Sweater Beer + Yoga event at Great South Bay Brewery in Bay Shore, New York and offer up a portion of the profits to the Alzheimer's Association. One of the Beer Fit Club team members father passed away from Alzheimer's much before his time and the Alzheimer's Association is a charity that is very close to her. Not only is it important to us to support another team member but also it's also important that we encourage the community that has built itself out around us to do good in the world.

We're making a little splash in a big pond but I'd rather that than no splash at all.

For more information about Beer Fit Club, visit: www.beerfitclub.com