Ahead of the first ever Chief Data & Analytics Officer (CDAO) Brisbane, we caught up with Greg Rehbock, Actuarial Manager (Data Analytics) /Head of Sales Strategy & Management Information, Youi to discuss Greg's analytics vision, the steps taken to build the best analytics teams as well as the key elements needed to execute a data & analytics roadmap.
1. First of all, what is your data & analytics 'vision', what are the key outcomes you are hoping to achieve and by when?

Extend data and analytics to not only answer the question of "are we doing things right" but also "are we doing the right things".
There is a lot that can still be done in using data and analytics to measure if we are doings things right. The business has access to all the data that they need, but the process to get what they need is often cumbersome and time consuming. Identifying ways that we can serve this information to the business better is top of mind for us.
We also want to find ways to allow self-service within the organisation. This will empower the end user and allow self-exploration for basic data needs.
However, going forward we would like to use data more to identify new opportunities throughout the organisation, "are we doing the right things". This will require more of a cultural shift and be a change that gets adopted over a longer period of time. There can be a lot of pride in defining a solution to a problem.
2.Talent is a big focus for you - could you walk us through the steps you are taking to build the best quality and right fit teams, expanding these and integrating them into the organisation to ensure data spreads and is embedded?
Hiring individuals that have amazing technical skills. However, cultural fit is very important to us. Irrespective of technical skills if someone cannot work productively as a team they won't be a good fit.
Not rushing decisions as much as possible. Often the need to hire new resources comes with short timelines. As much as possible have plans well in advance of when new staff will be required. Then be happy to not hire anyone if the right candidate does not apply. If we don't get the right applicant look at other ways to get other candidates that would be a better fit. Potential solutions are looking further afield to find people that would be open to moving, clarifying position descriptions, hiring more junior.
Communication is very important, and sometimes isn't done as effectively as it could be. This area is continually evolving and needs to be amended in line with changes made elsewhere in the organisation.
Embedding team members into specific areas of the business. Where they can build a relationship with the business, and become a valued resource for the business. Working together to create solutions that fit the needs of the business.
3. What does your data and analytics roadmap look like, what are the key KPIs and elements you are wanting to achieve and how are you going about executing this?
Report run times. Making sure that we have solutions that allow the business to get their results quickly.
Warehouse build times. Making sure that data is up to date and reducing warehouse downtime as much as possible.
Reporting requests and turn-around times on those requests. Often these are more basic reports that need to be created or amended, and making sure we have resources to action these requests in a timely manner.
Following from the previous point, reducing requests for new reports or amendments to existing reports. If the business has well defined reports and data sets that they can explore, then the need to be involved in every new question that arises should reduce.
Actively improving KPIs within the business. As part of the department OKR (Objective and Key Results) it is to actively seek new opportunities to improve specific business metrics.
4. In terms of making data and insights accessible to all staff and ensuring they understand how to apply them to their specific roles, what have you found to be the most effective way in going about this?
Have a single data analytics team, a single COE (Centre of Excellence). However, having individuals within the team working closely with the business so that they are embedding themselves and identifying opportunities with the business actively involved.
5. What have the 5 key learnings/takeaways been for you?
A single COE for Analytics.
Working closely with the business.
Having a culture that embraces data at all levels.
Building a strong team, with amazing technical skills and good culture.
Communication. Being very open and honest with the team and having active conversations around things that are happening throughout the organisation.
6. What do you see as the key components of the CDAO role and where this is headed in the next 3-5 years?
Using data to identify opportunities. Big move towards big data and using cloud services. There is likely to be a bit of a hype curve in this journey. In the next 3-5 years it seems like CDAOs will be using a much greater array of solutions. Instead of a single data warehouse and reporting solution, in the next 3-5 years it is likely that there will be a hybrid of solutions. For each of these solutions starting with the business problem is important to ensure that the CDAO add value long term.
ABOUT: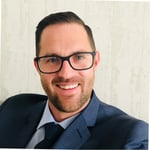 Greg Rehbock
Actuarial Manager (Data Analytics) /Head of Sales Strategy & Management Information, Youi