Drawing on over 30 years of experience, we caught up with our international keynote, Cary Correia, Chief Commercial Data Scientist, GE USA to share some golden nuggets on how to truly achieve a data-driven culture and become an intelligent enterprise.
See how Cary's teams worked towards a data driven culture, the use of proactive and reactive analytics, and facilitating the most significant steps to move from strategy to execution.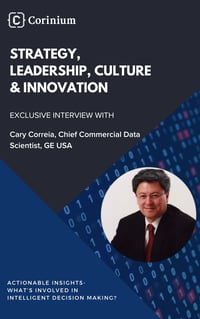 When it comes to intelligent decision-making - how do you foster a culture of turning information into actionable insights?
In all of my days at GE or Motorola we always managed to create a culture where you had to have some kind of data to do your job. We did this by embedding the improvement and data science know-how directly into the functions we were working with.
So, what are you waiting for?
Download your copy!
Want to find out more? Meet Cary at our upcoming Chief Data & Analytics Officer Melbourne event on the 9-11 September.

Headlining Day 2- 11 September, The Art Behind Data Science – Prioritising and Triaging Your Analytics Projects for Maximum Business ImpactLooking for a focus on growing and finding Talent? Join Cary's workshop on Creating Impactful Data Teams on the 9th of September

For more information about the event and to view the impressive speaker line-up and agenda, visit: https://cdao-mel.coriniumintelligence.com/