Most team sports need defenders and attackers, just as most individual sports require a time to defend and a time to attack. This principal also goes for your Data Analytics team and the Data Strategy, knowing when to play defensive and when to play offensive is what decides the final score.
Defensive strategy here will be focused on Governance, Risk and Compliance where the Offensive strategy will be focused on driving business performance through analytics. Most organizations have been defending long enough and are now attacking or ready to attack, in fact, according to a survey we are currently conducting with data analytics professionals in the Middle East and Africa, 48% said that they are in offensive mode and 52% stated that they are transitioning from defensive to offensive, which leaves 0% at defensive mode only.
Unexpected result? Perhaps but thinking about it, it actually makes perfect sense. Floyd Mayweather Jr. and Conor McGregor, during 'the money fight' in August 2017, I know it is old news but it showed a perfect example of this. Mayweather Jr. was defending for most of the fight which had fans a bit bored or worried, McGregor on the other hand was attacking like the crazy person he is. This strategy looked good for a bit but obviously wasn't the right timing for this strategy because fatigue set in, Mayweather Jr. was done with his genius defending and implemented his attack and next thing McGregor was down and the result was in.
Coming back to Data Analytics, defending is important, having your Governance in place and keeping it in place is important and will awlays be. But, there comes a time when you need to shift focus to the attacking, deploying real data science, move towards automation, self-service BI, AI, ML, all these great developments to better your services, products or experiences to go for that Knock Out.
If Mayweather Jr. kept on defending what would have happened? He probably wouldn't have been knocked out, but he would have probably lost on a TKO and this is not winning.
Knowing when to defend and when to attack is all up to your strategy and being agile in your approach, not all projects and goals are the same just as not all opponents are the same. During the same survey referred to earlier we have asked the participants if they have a formalised data strategy in place and the results were warming, 55% confidently said yes we do, 35% ensured us that they are developing a data strategy and only 10% said no (but after they read my analysis on the Mayweather Jr. vs McGregor fight they will probably start developing a data strategy as well)
The time is now to have a formalised data strategy, and also ensure that you have your governance in place so you can move forward confidently, step in, and attack to get the desired business results and win the trust and buy-in of your organisation.
---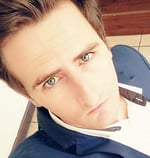 Gert Botes is the Data Analytics Portfolio Director for the Middle East and Africa at Corinium Global Intelligence. Gert joined the South African team in mid 2018 and has been producing top level conferences for more than 7 years prior to joining Corinium Global Intelligence. Gert has been on a path to gaining valuable insights and knowledge into the data analytics industry in MEA and using his valuable insights to produce top class data analytics conferences, forums and workshops to educate and inform the data analytics community.