Abhi has been at the helm at Honeywell Aerospace throughout their significant transformation and we are delighted to have him join us at CDAO Sydney next April to share his journey. Ahead of the event, we touched base with Abhi to learn more about his work.
Abhi, you've grown the department from around 3 people to 75 in just over 18 months and undergone a huge transformation. Tell us, did you meet any major culture challenges in setting up AI and predictive analytics as a core element of the operational strategy?
During the last 18 months we have truly transformed Honeywell Aerospace business by demonstrating tangible business results through analytics. Our demand for analytics projects has been growing at an unprecedented pace.
We definitely did not start there. Even though we had an organization that was highly metrics driven, one of the biggest challenges I faced was awareness about what is 'the art of possible' with data & predictive analytics. Business leaders in the company simply did not understand what type of questions to ask to an analytics team.
I approached this challenge from different angles. First step was to educate the leadership through a few training sessions on advanced analytics and it's use cases in industry. Second, we conducted ideation workshops & identified high value opportunities that could deliver impact in the short term. Third, we delivered successfully on the projects that had a tangible and quantifiable impact on the business.
"My advice – first understand the c-suite strategic priorities and make sure to start with the high-value opportunity projects that directly enable them."
Did you need to get buy-in from the c-suite or did the direction for this project come from an exec committee? What advice do you have to those seeking to gain commitment / backing for their AI and advanced analytics projects?
Buy-in was there and so was the sense of urgency to demonstrate good results!
Honeywell Aerospace C-Suite leadership firmly believed in data driven decision making and decided to create an analytics Centre of Excellence (COE) to ensure that analytics becomes a core competency for the business.
I firmly believe that trust from leadership is gained through tangible results that have a quantifiable impact on the business. My advice – first understand the c-suite strategic priorities and make sure to start with the high-value opportunity projects that directly enable them.
"For prioritization, we follow the following three rules – size of value enabled, time to value and feasibility."
Your keynote will address how you've implemented advanced analytics across various areas of Honeywell Aerospace operations for benefits across the value chain. How did you prioritise advanced analytics initiatives?
We have established a comprehensive intake, opportunity qualification and prioritization process for analytics project opportunities. For the team to work on an analytics idea we ensure that there is an executive sponsor and that it has a potential for positive ROI and we also set a clearly defined success criteria. For prioritization, we follow the following three rules – size of value enabled, time to value and feasibility.
What advice do you have for organisations looking to shift their own focus from business intelligence to advanced analytics?
BI is an important aspect of business decision making and can't be ignored on the path to a company's analytics transformation. I firmly believe that without fulfilling the need for BI business leaders would find it challenging to embark on their journey for analytics transformation.
Good BI processes definitely enable the data foundation for advanced analytics and allow teams to track the impact on KPI's that were established to measure business performance.
If you have BI processes already established and working well – I would start with identifying high value opportunities through data that would drive forward-looking or real-time decision-making.
Apart from expanding toolsets and hiring the right analytics talent, companies need to pay strong attention to setting up a scalable big data infrastructure. Simultaneously, they should focus on driving process maturity maturing for advanced analytics ideation, intake, project execution, deployment and support.
How has the connected aircraft changed industry benchmarks?
Our connected maintenance analytics solution goes well beyond the capabilities of current-generation solutions, which focus on system health monitoring and trend analysis. Applying advanced analytics techniques such as machine learning and artificial intelligence, along with deep domain expertise from Honeywell's engineering and maintenance experts, we are able to generate accurate and actionable insights for operations and maintenance crews.
Our analytics solution not only predicts an imminent system issue, it also provides prescriptive actionable insight to help maintenance crews pinpoint the fault down to the subcomponent level, identifying the particular part along with the repair procedure to be followed. As a result, technicians spend less time manually troubleshooting components and get to the right fix the first time with a 10-15 percent reduction in premature removals and 30 – 50 percent reduction in costly operational disruptions. Our fuel efficiency analytics has helped airline customers to save thousands of tons of fuel and have driven reduced emissions.
"Establish a robust & agile recruiting process for analytics talent recruitment."
Here in Australia, data and analytics talent is a fairly rare breed. Recruiting and retaining talent and building teams are challenges that have been likened to hunting unicorns! How did you go about building your team up - do you have any tips that can be transferred to the Australian market?
Always be on the lookout for great talent. Establish a robust & agile recruiting process for analytics talent recruitment. Don't settle for sub-par talent
One strategy that worked well for us was to start first with hiring a few experienced professionals and then adding entry-level talent to the team such as college graduates whom we could train and grow within the analytics organization.
Equally important is the aspect of data science talent retention. Retention requires engaging environment where the team gets to work on problems that require them to learn and apply cutting-edge analytics techniques and also observe the impact they are having.
I'm particularly excited about your in-depth pre-conference workshop on 2 April addressing "Building an Analytics Practice from the Ground Up. Analytics Myths & Best Practices." What was your biggest achievement or proudest moment in developing the analytics capability at Honeywell that you are looking forward to sharing with our audience?
We have delivered ground breaking analytics solutions to drive predictive maintenance in the aviation market. Our predictive analytics is reducing delays, cancellations and unplanned disruptions for several commercial airlines and is making flying safer and more comfortable. Furthermore, we have delivered $100M+ business impact through pricing, supply chain and Industrial IOT applications in manufacturing.
Just recently, our team was externally recognized for analytics success and won the 2018 ANNY – Excellence in Analytics Award by International Institute of Analytics. It was a humbling experience to be honoured by this recognition in spite of us being one of the recently formed teams in the analytics community.
ABOUT: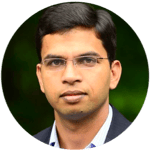 Abhi Seth
Senior Director, Data Science & Analytics, Honeywell Aerospace USA