Ahead of the third Chief Data & Analytics Officer (CDAO) Singapore conference, we caught up with Melecio Valerio Jr, Head, Data Strategy and Governance at FWD Life Insurance to discuss the key strategies for managing massive volumes of data, the cornerstones for building a data driven enterprise as well as how to best roll out an enterprise-wide data management program.
What are the cornerstones of building a data driven enterprise?
First things first, we need to understand that being data driven is about more than just the numbers, it actually takes a cultural commitment as well. Aside from having an evangelical IT infrastructure, there is a need to create a data pool and empower them to make use of the available data in the organization to make informed decisions. Lastly, to build a successful Data driven enterprise, it needs to have a solid Data governance foundation to ensure underlying data sets are complete, timely and accurate. In summary, I would say Evangelical IT Infrastructure, creating a data pool of talent (Data Literacy Information culture) and a solid data governance are the cornerstones of building data driven enterprise.
What advice can you give for rolling out an enterprise-wide data management program?
It is very important to get the buy in form the stakeholders and senior management before you proceed rolling out an enterprise-wide data management initiatives. Below are the things we need to consider to undertake this program:
Identify goals and deliverables: need to know what you really want to accomplish. You should have short term and long term goals. What's the scope? How this can be measured a success. This is essential for senior management and stakeholders in getting their buy in.
Generate Standards and Policies: these are very critical in keeping your data where it should be to prevent any data breach, data loss and other issues related to data. With having an established standards and policies, it will not only protect your data but will help prevent fines and penalties as well specifically for financial institutions in complying with different regulators.
Data Quality is a priority: don't ignore data quality. Your data is useless if it has poor quality and not fit for purpose.
Invest on the right people and technology: there are a lot of god technologies out there. But you need to ask yourself if what technology is really fit on your organization. Not all good technologies are right for you. Talent skills are also important. Having the right tools and technology but with no skilled people to leverage you technology is very expensive and useless.
Be Patient: this is what I always say every time I was asked to speak in relation to data management specifically data governance. Rolling out any data related initiatives cannot be achieved overnight. So be patient. Most important thing is you should be a quick win benefits to get you going forward in achieving your end goal.
What are the key strategies for effectively managing massive volumes of data?
Volumes of data can come from various source systems. Below are my recommendations:
Define key roles and responsibilities. It is very important to determine who owns the data, who owns the system, who are responsible in managing the data, who is accountable for any data related issues and initiatives. If this will not be defined and agreed, expect a lot of grey areas which will create silos and misunderstandings across the organization.
Create a roadmap. This is to ensure we have the right direction on how we are going to use and leverage the data we have from the point of data capture, using and organizing the data until archiving and destroying the data. Roadmap should focus on end to end data lifecycle management to ensure we govern and manage the data accordingly.
Don't forget to develop a policy, standards and framework. Working with massive volumes of data is susceptible in creating lots of compliance, privacy and security issues. So having an established policy, standards and framework will address those issues and will ensure data are governed and managed the right way.
Create a data quality management: as I said awhile ago, Data Quality is a priority and this should be part of data strategy when dealing with data. Time and money will be wasted if we are working with poor data quality. So having a data quality management initiatives such as Data quality profiling and cleansing is very important to ensure the data is fit for purpose like reporting, and analytics initiatives.
What are the latest considerations for compliance in data management?
Data privacy is now one of the items we always need to consider. In anything we do with data, we always need to consider how we can protect our "clients" from any data breach. Thus, working with different units from Information Security, Data Science, Risk and Compliance, Data Architecture and Data Governance is very important in aligning data management initiatives in ensuring data protection.
Another thing to consider are the regulatory compliance specifically for financial institutions.
ABOUT: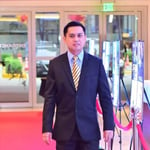 Melecio Jr Valerio
Head, Data Architecture and Governance, FWD Life Insurance Corporation