What is the biggest challenge you face within your role today and how are you looking to tackle it?
I think a challenge faced by many more traditional organisations (including our own) is how to put a financial value on Customer Experience. Traditionally business cases are built on the financial value that can be derived from an initiative with specific expectations around pay-back time frames. As Customer Experience advocates we need to continually evaluate and define the contribution being made by good CX, and be prepared to translate this into the different 'languages' that exist across our organisations.
In what ways are you working with your business to help drive value and insight driven decision-making?
It might sound obvious but for me it's all about good engagement and socialisation – getting the information to the people who are making the decisions, so I'm constantly challenging my team to share insights they're gathering as broadly as possible. Operationally, we try and have customer reps in all Key Decision forums who are empowered to advocate for the customer, using data and insights to do so
Describe a way that you help your organisation understand the value of good experiences?
As Customer Experience professionals we can be guilty of making assumptions that the rest of the organisation thinks in exactly the same way as us – which isn't a safe assumption.
There's an opportunity for CX teams to treat others in our organisation in exactly the same way we treat our customers – understand what's important to them, understand what's really going on for them and co-designing initiatives to meet the business needs, which will ultimately come through better customer experience.
In what ways have you noticed a fundamental shift towards more customer focused culture within your organisation? Can you give me an example?
At Suncorp we have a very active Customer Immersion programme – offering our employees a number of opportunities to immerse themselves in our customers world, to help us better define and deliver experiences. With experiences ranging from accompanying loss adjustors to customer sites, to attending claims committee meetings to participate in discussion, 93% of participants rate their experiences as great or brilliant, and a number of initiatives are now underway which have originated from learnings gained through customer immersion.
What were the two most important things you did to build better engagement of your employees?
We're currently in the midst of a piece of work to encourage every single employee to take an active role in the brand experience that we deliver to our customers. By communicating to teams that brand is way too important to be left in the hands of a few, we're working with all business units and individuals to define what their contribution could look like.
About: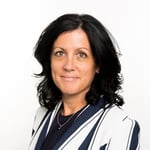 Catherine Bateman
Executive Manager, Customer Experience
Suncorp New Zealand